In Adams County Wisconsin
Castle Rock Lake (Flowage) and Dam
16,640 acres – 30′ maximum depth
Game Fish: Walleye, Northern Pike, Smallmouth & Largemouth Bass, Panfish, & Musky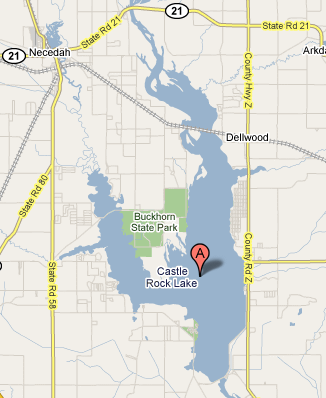 Two of the best-kept secrets in Wisconsin are Petenwell and Castle Rock Lakes, the second and fourth largest inland lakes in the state, together covering over sixty square miles.
In Adams County, the shores ofCastle Rock Lake are dotted with public launch sites, and visitors can enjoy water skiing, swimming, sailing, and boating on its beautiful blue waters.  Spectacular sunsets await along the many miles of wooded shoreline where 25,000 acres remain in their natural state.  For the angler there are walleye, northern pike, bass and perch lurking just beneath the surface.
Started in 1947 and finished in 1951 by the Wisconsin River Power Company, Castle Rock Lake is Wisconsin's fourth largest lake.  It covers sixteen thousand acres, and has approximately sixty miles of shoreline.  The majority of shoreline is undeveloped making the lake "less populated" and ideal for boating and skiing.
The lake's depth varies from 8 to 20 feet in most places, with area in the old river beds reaching as deep as 30 feet.  The structure created from the river beds makes Castle Rock Lake a very productive and consistent fishing lake.  While walleyes, white bass, and crappies are the most abundant, many northern pike, large mouth bass, small mouth bass and panfish are taken also.
Wisconsin River Power Company generates enough electricity at the Petenwell Dam during peak demand to light 40,000 homes.  Tours of the generating facility and spillway are available by calling 608-565-2217 for more information.
Click Here for Map of Castle Rock Lake (Flowage)